Airstream Interstate for Sale
It takes a special person to own a Class B motorhome - especially one as versatile as the Airstream Interstate.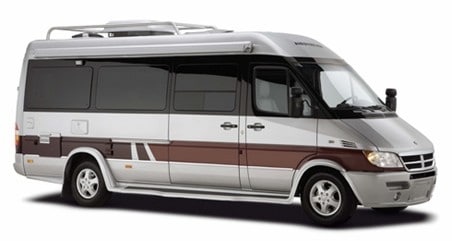 This Class B motorhome not only average 18+ miles per gallon on the highway, the same fuel economy of the average SUV, but it also comes with dual wheels for increased stability which means this RV is able to tow up to 5,000 pounds.
The Interstate comes with a state-of-the-art advanced engineering system and its entire electrical system has been simplified and is complete with an on-board monitoring system. This means few if any electrical issues.
Inside the Interstate you'll find hand-made cabinetry, accent lighting and details like the fold down faucet which allows the sink to be covered flush for more full counter space. With Airstream, every aspect of convenience and comfort has been thought of and detailed.
Also, for you environmentally conscious Class B enthusiasts, you can rest easy knowing the Interstate runs on auxiliary absorbed glass mat batteries compared to lead acid batteries. It also utilizes a refrigerator compressor which uses 90 percent less power than the industry standard. Basically when you ride in the Interstate, you're doing so in a "green-friendly" way.
So what's the best part about the Airstream Interstate? Well to start, you can find one of the best selections around only at Dave Arbogast Vans in Troy, Oh. We're proud to offer a wide selection of new and used Airstream Interstate Class B motorhomes. And with our dedicated staff, servicing your vehicle won't be a problem. Also, it doesn't matter where you live in the country, we can ship any new or used Airstream Interstate right to your door.

Tweet